Last week I made a dinner that was so good I wanted to share the recipes. I took a couple recipes and altered them to fit my family's tastes.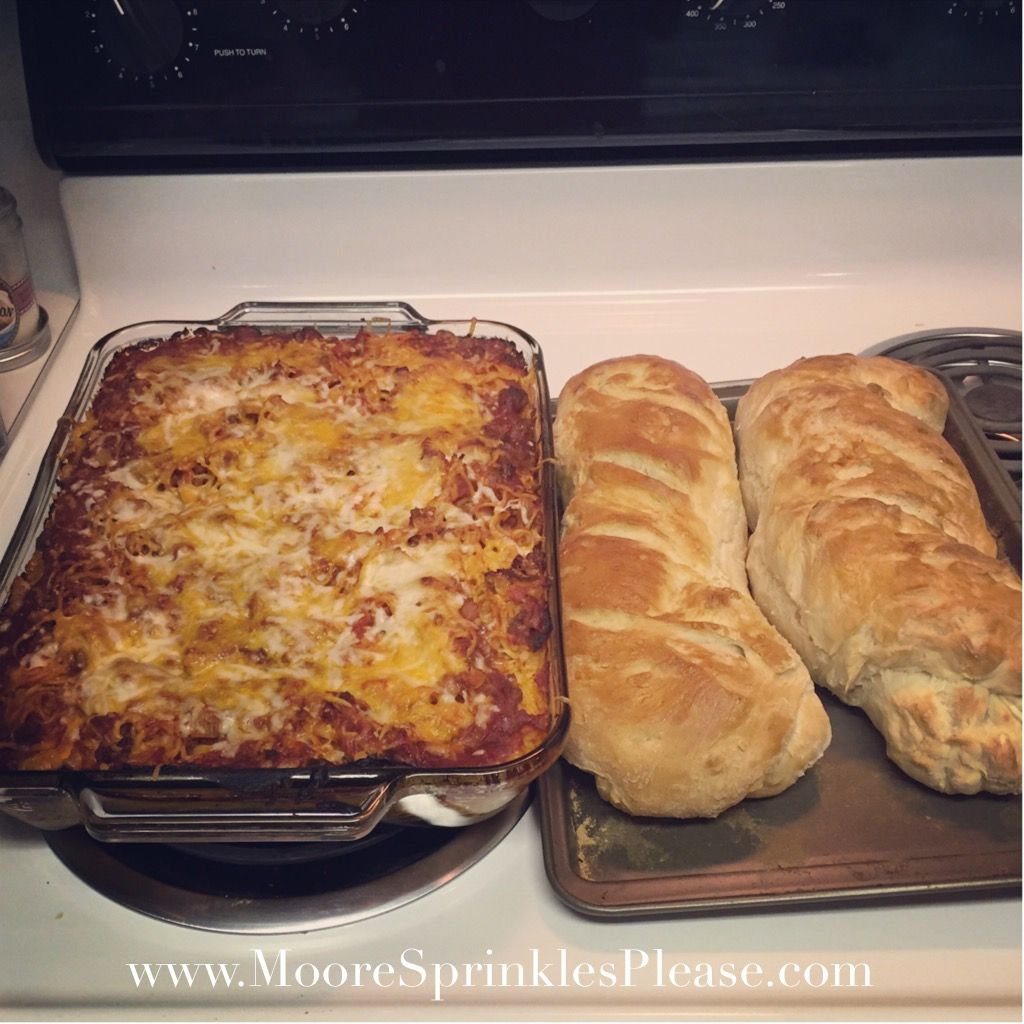 Ingredients
1 pkg spaghetti noodles
1 lb ground beef
1 medium onion, chopped
1 large 48 oz jar spaghetti sauce
1/2 tsp salt
2 eggs
1/3 cup grated Parmesan cheese
5 tablespoons butter, melted
16oz ricotta cheese
4 cups shredded cheese (I used part Mozzarella & part three cheese blend)
Directions
Cook spaghetti according to package directions. Cook beef and onion over medium heat in large skillet then drain. Stir in spaghetti sauce and salt.
In a large bowl, whisk together eggs, Parmesan cheese and melted butter. Drain the spaghetti noodles and add to egg mixture, tossing to coat.
Place half of the spaghetti mixture in a greased baking dish and spread the ricotta cheese on top. Top with half of the meat sauce and 2 cups of the cheese. Then do another layer of the spaghetti noodles and meat sauce.
Cover and bake at 350 for 40 minutes. Uncover, add the remaining 2 cups of cheese and bake for 20 minutes or until cheese is melted.
Homemade French Bread (makes 2 loaves)
Ingredients
1 packet of instant yeast
1/2 cup warm water
1 1/2 tablespoon sugar
2 cups water
1 1/2 tablespoon oil
2 1/4 teaspoon salt
6 cups flour
Directions
Combine the yeast packet, 1/2 cup warm water and sugar in a small bowl. Sit aside and let proof for 10 minutes.
Using the dough hook attachment in your stand mixer, combine 3 cups flour, 2 cups water, oil with the yeast mixture. Mix until flour is incorporated.
Gradually add the remaining 3 cups of flour and knead for 5 minutes. Cover the mixing bowl with clear plastic wrap and let rise for 10 minutes.
Sprinkle salt all over the top of the dough and mix for 15 seconds.
Flour the baking pan and shape dough into two loaves. Slash diagonal lines. Cover and let rise for 30 minutes to an hour, until doubled.
*optional* Brush loaves with a beaten egg white for a crisper crust.
Bake at 425 for 10 minutes and then at 375 for 20 minutes.
After several attempts at making bread I've found that it is a learning process. Do not get frustrated if this is your first time and it doesn't turn out right! Live & learn :)
This time was the best my bread has ever turned out and it could have been because I had this super cute little helper!!