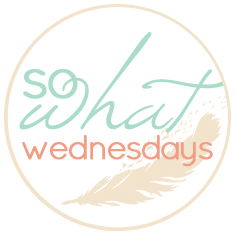 This week I'm linking up on Shannon's blog to say:
So what if ..
Even though I'm off work today I seriously contemplated sending Collin to daycare anyway just so I could have some time to myself [probably sleep] this morning. I didn't do it.. but I wanted to.

I didn't put on makeup this morning when I dropped Cailey off. I look like a pretty scary 12 year old without makeup on :-\

I've been eating whatever the heck I want since ending the cleanse last week and I'm pretty sure everything is gonna come creepin' back on. [okay so I really DO care about that. gotta get my butt back in gear!]

I am so freaking stoked for the NKOTB, Boys II Men & 98 degrees concert in June!

And now trying to figure out how to see Backstreet Boys in August. Yes, I'm 13 again.

We are going to Charleston May 31st for my sister's wedding and I still haven't booked our hotel. Maybe I should get on that today..

My house is a mess. I have better things to do. Like...

Read

Catch up on like the million episodes of all my shows that I'm behind on. [think Real Housewives, Revenge, Nashville, 90210 .. I'm weeks behind on everything. too much reading]

Nap

Go shopping for new beach clothes even though I feel like a fatty

Basically anything but clean?

I just gave Collin a pack of gummies because he wouldn't stop whining for them. I believe in picking your battles and before 8am Mott's Fruit gummies is just not one of them.

I just paused from posting this to put some chocolate fudge pop tarts in the toaster for myself.

I make my 8 year old carry in all the groceries yesterday.

Nobody reads my blog!