If I am gonna switch places with someone, I'm gonna go all out diva mode.
The biggest diva I can think of at the moment?
Mariah Carey.
I follow that crazy diva bia on Instagram and she is exactly that - a crazy diva bia! But I love it. And if I was Mariah, I would be the exact same way.
I would start my day off with breakfast and a bottle of Champs. Of course sometimes I like to have champs on the front lawn. While my husband is dressed as a bunny. Details.
Then I imagine I would spend the morning pampering myself. Touching up my makeup. Looking at myself in the mirror. You know, everyday normal stuff.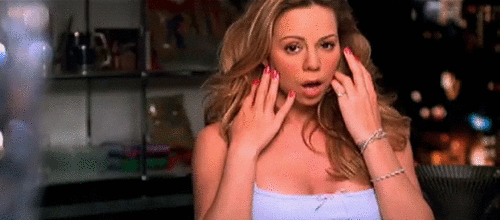 Lunch would be some sort of expensive speciality food. Or maybe I would just demand that I only have blue M&Ms again.
I figure in the afternoon I would have to go out into the world to see all the peasant people beneath me.
I could put on my best ballgown and take 'dembabies' to the playground.
On the way home I would stop by the studio to belt out some high pitched lyrics, just because I can.
I would be pretty tired by then so I would head home. Probably get in my hot tub because if I had Mariah's bod I would stay in a bikini.
But at the end of the day would you want to switch back??
Yes. My life might not be perfect, but I love it.
Note: I really do like Mariah even though this semi poked fun :p